Handyman Business Card
Handyman Remodel & Repair
Contest Holder

HandymanRR

Last Logged in : 646days17hrs ago

Concepts Submitted

253

Prize Money

75

Winner(s)

Business Cards and Stationery

All design entries are veiled from other designers till the end of the contest.
---
Project: Handyman Business Card
Contest Launched: Aug 29, 2017
Selected: 1 winning design from 253 concepts
Close Date: Sep 5, 2017
---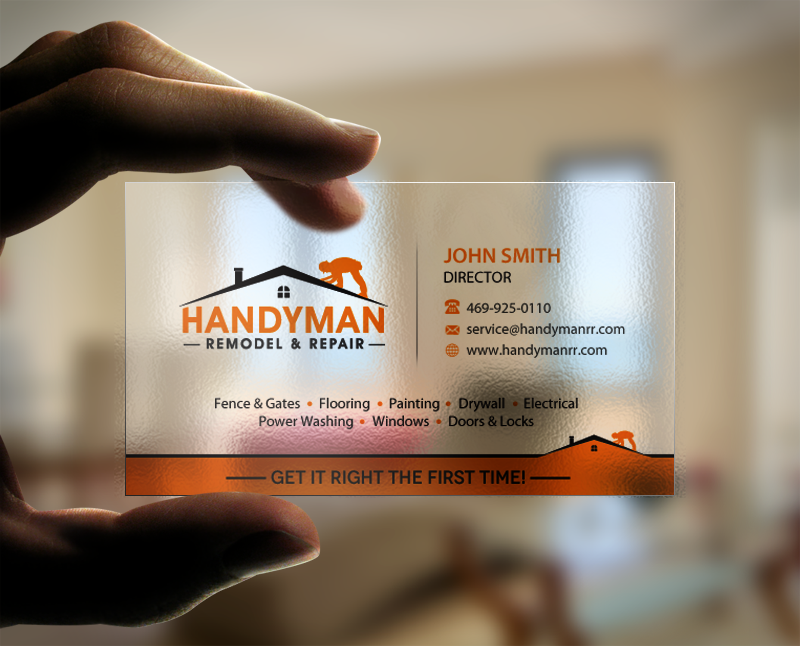 ---
---
---
No draft has been uploaded in this contest.
---
Creative Brief
---
Handyman Remodel & Repair
I need double sided standard sized Business Card [3.5" x 2"]
Use same font as used in my logo
I would prefer the contact info to be on the back of the card. The only thing that should be on the front is the logo and maybe the phrase "Get it right the first time!"
469-925-0110
service@handymanrr.com
www.handymanrr.com


Fence & Gates
Flooring
Painting
Drywall
Electrical
Power Washing
Windows
Doors & Locks