Website for spa line
Ambiance
Contest Holder

ambiance

Last Logged in : 1443days14hrs ago

Concepts Submitted

93

Guaranteed Prize

400

Winner(s)

Complete Web Design Solution

All design entries are veiled from other designers till the end of the contest.
---
Project: Website for spa line
Contest Launched: Mar 8, 2015
Selected: 1 winning design from 93 concepts
Close Date: Mar 31, 2015
---
---
Concept #34
Awarded as a winner
---
---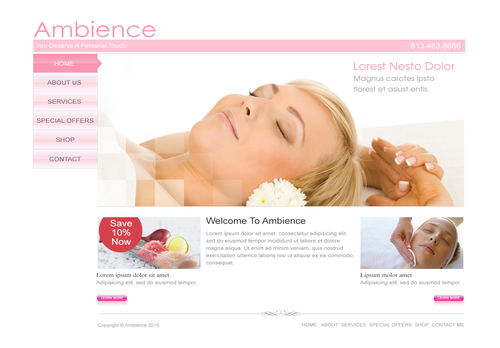 ---
Creative Brief
---
Ambiance is a chic and modern, all natural spa line for young women who like to spoil themselves. We also feature high end lingerie and artistic items for the home. Its new, fresh, classy and fun.
YES: Sleek, clean, user friendly.

NO: Childish
Cutting-Edge
Unique/Creative
Professional
Glamourous
Futuristic
Friendly
Sophisticated
Modern
Inspirational
Elegant
Nature
Fun
Feminine
http://www.maccosmetics.com