Logo Design for a Photography Company
Through My Father's Eyes
Contest Holder

TMFEPhotography

Last Logged in : 1881days15hrs ago

Concepts Submitted

138

Guaranteed Prize

200

Winner(s)

A Logo, Monogram, or Icon

All design entries are veiled from other designers till the end of the contest.
---
Project: Logo Design for a Photography Company
Contest Launched: Oct 15, 2013
Selected: 1 winning design from 138 concepts
Close Date: Oct 30, 2013
---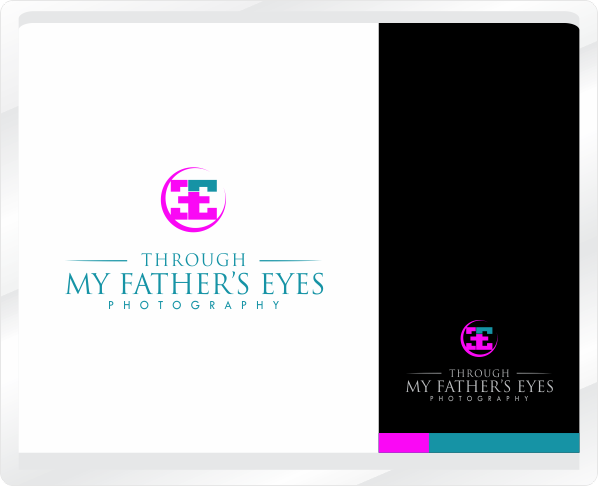 ---
Creative Brief
---
Logo Design for a Photography Company
Our photos are your story
Objective:
To create a logo that is conducive to my brand style, translates well across all mediums, and is simple, timeless, and memorable.

About Through My Father's Eyes Photography:
• Vision: Through My Father's Eyes will create lasting impressions and family heirlooms by capturing sincere, endearing, and timeless photographs that express the relationships of your story.
• Mission: To deliver quality photographs that become works of art and a premier custom experience that uniquely caters to every client desire and unexpressed need.
• Story: Following in the footsteps of the greatest storyteller of all times, my father. Instead of using words to tell stories, I use photographs.
• Strategy: The experience will ignite referrals and strengthen loyalty.
• Promise: Every photo will evoke the emotion, true essence, and personality of every client.
• Freshness: A first class experience using cutting-edge premium products.
• Experience: A distinctive photo journey that's inviting and professional.
• Values:
o Integrity
o Empowerment
o Passion
o Authenticity

Overall Style: Modern with a pop. A clean modern style that appeals to the trendy elite and high-end audience who also has a desire for unique creativity.

Target Audience:
• Luxury, quality seeking, and youthful couples and families within the 25-45 age range.
• High School Seniors
---
---
---
---
---
Modern
Sophisticated
Simple
Professional
Any use of the five colors in the above palette is acceptable. The designer has creative liberty to use the colors as desired.

To view/download the color palette on Adobe Kuler use this link: https://kuler.adobe.com/TMFE-Color-Palette-color-theme-3085752/

WHITE - #FFFFFF
SILVER - #D930DE
PEACOCK - #1EAAB2
PERSIMMON - #FF120D
FUSHIA - FA08F5
Must Haves:
o Full company name (spelled out)
o A unique design that stands out.
o Look good even at smaller sizes like 1 inch without loss of detail.
o Reproduce well in black and white
o Reflect the culture, values, and my company's essence
o Translates well across all mediums

"Do Not Include…":
o A symbol of a camera, tripod, shutter, or anything symbolic to a camera or photography. These symbols are too cliché.