Lean Integrity - Website
Website for a Lean company
Contest Holder

emagineitgroup

Last Logged in : 242days3hrs ago

Concepts Submitted

68

Guaranteed Prize

350

Winner(s)

Complete Web Design Solution

All design entries are veiled from other designers till the end of the contest.
---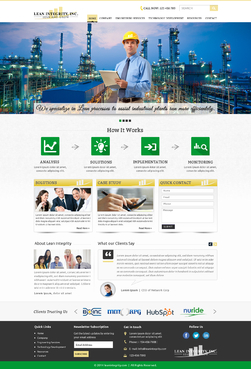 Project: Lean Integrity - Website
Industry: Industrial Supplies
Contest Launched: May 23, 2014
Selected: 1 winning design from 68 concepts
Winning Design by: itmech

Close Date: Jun 3, 2014
---
Creative Brief
---
Website for a Lean company
A company that specializes in Lean processes to assist industrial plants run more efficient.
Like Very Professional looking sites.
Professional
Conservative
Industrial
Masculine