Smartphone Repair Tablet Repair Online Adds
Series of Online Adds to Advertise Smartphoen & Tablet Repairs
Contest Holder

wirelessrev

Last Logged in : 68days19hrs ago

Concepts Submitted

75

Guaranteed Prize

250

Winner(s)

Other

All design entries are veiled from other designers till the end of the contest.
---
Project: Smartphone Repair Tablet Repair Online Adds
Industry: Electronics
Contest Launched: Oct 14, 2015
Selected: 1 winning design from 75 concepts
Close Date: Nov 13, 2015
---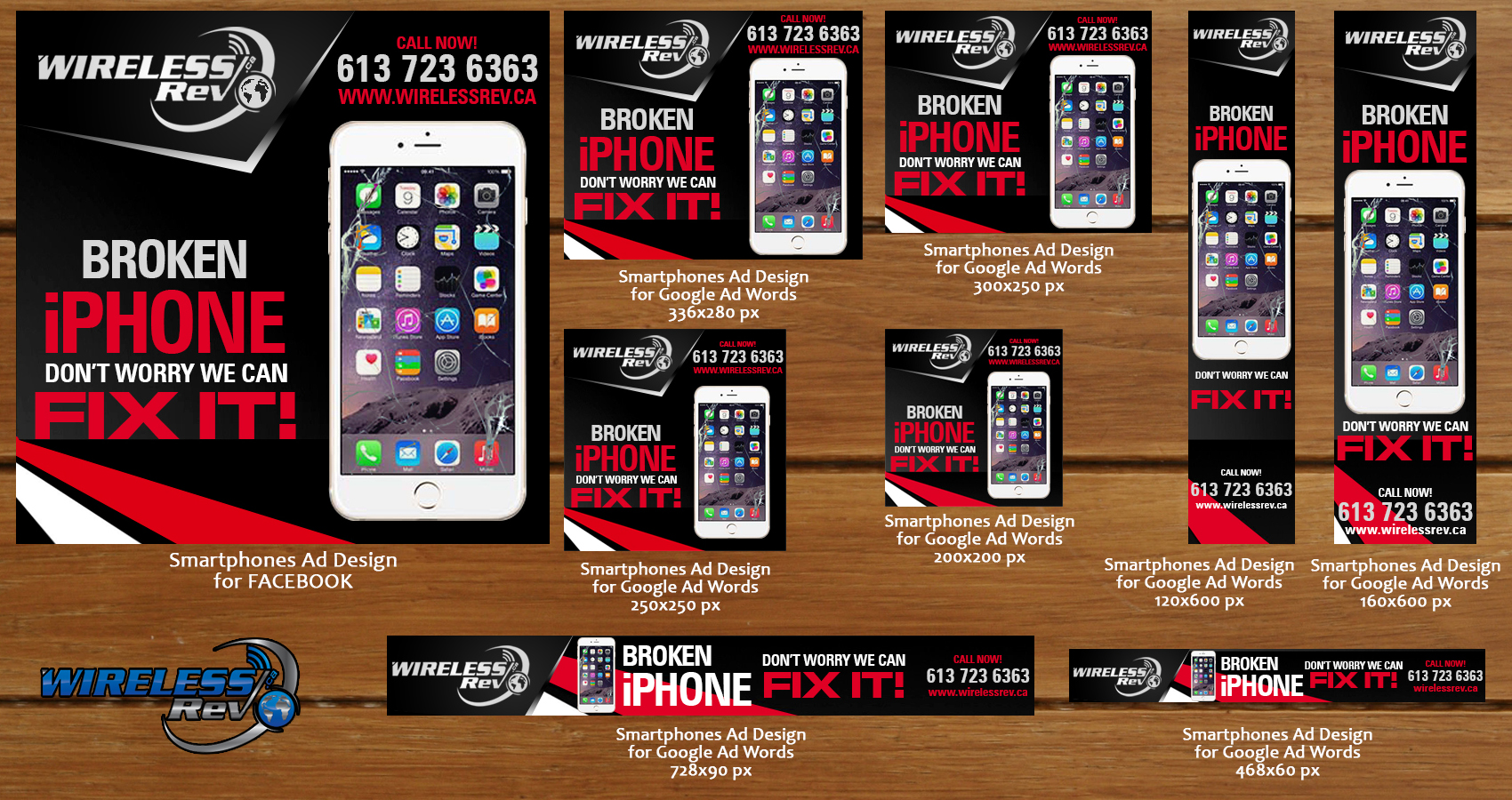 ---
Creative Brief
---
Smartphone Repair Tablet Repair Online Adds
Series of Online Adds to Advertise Smartphoen & Tablet Repairs
Looking for a series of images that will be used as ads on facebook as well as in Google Add words to advertise Smartphone Repairs and Tablet Repairs.

Smartphone Repair General - One add for Smartphone Repairs (basically all makes / models / problems)

Iphone Repairs - One add for Iphone Screen Repairs
Samsung Repairs - One Add for Samsung Screen Repairs

Tablet Repair General - One add for Tablet Repairs

Ipad Repairs Add
Samsung Tab Repairs

Adds should be very eye catchy (high resolution add showing a broken screen is an example)

Not a lot of text on the add.

Use of the words "Broken Iphone? We Can Fix It" / "Broken Samsung, We Can Fix It" and alter them as needed based on the add being created.
The audience will be jsut about anyone on facebook or online browsing or searching keywords associated with repairs of smartphones or tablets. The idea is to keep the ad very simple and to the point.

Eye catching graphics. Do not use illustrated graphics of phones. Please use the actual phone images.
Required on the adds:

Our Logo
Actual Smartphone Images (not cartoon images)